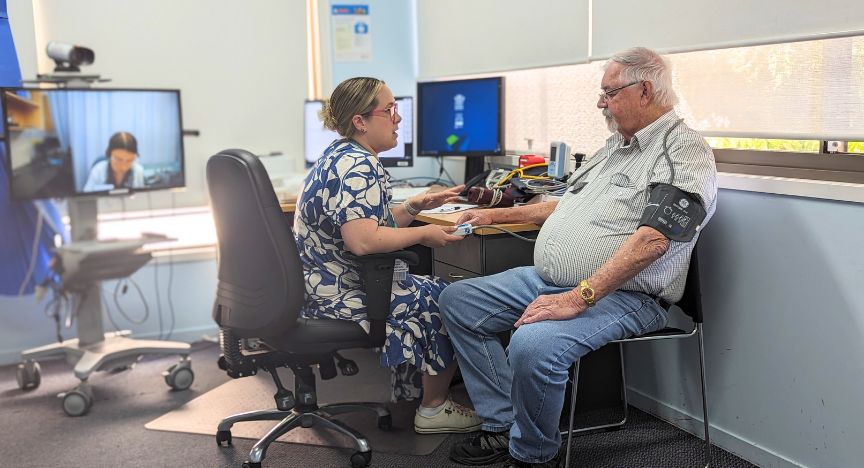 The Central West Hospital and Health Service has worked hard over the years to build local services for our diverse communities and bring care closer to home.
Over the past five years, increasing numbers of residents and visitors have been able to access health services within our region, for which they would previously have had to travel elsewhere.
Our health service has been able to build its capacity to deliver a wide range of specialist surgical services as part of the specialist outpatients and elective surgery programmes.
Visiting specialist services include orthopaedic surgery, ear, nose and throat, ophthalmology, respiratory, obstetrics and gynaecology, gastroenterology, paediatrics, endocrinology and general surgery.
We have also built a strong partnership with the Metro North Hospital and Health Service since 2016.
This has allowed us to deliver a steadily increasing range of telehealth cardiac care services with the support of specialist Metro North HHS hospitals such as Royal Brisbane and Women's Hospital and The Prince Charles Hospital.
These include exercise stress tests, holter monitoring, ambulatory blood pressure testing and even sleep study investigations.
And since 2018, this partnership has been further expanded with the introduction of tele-chemotherapy services with the support of Metro North HHS.
These are all services for which Central West residents previously had to travel outside the region to access, with support from the Queensland Patient Travel Subsidy Scheme.
There's no doubt telehealth is revolutionising the delivery of health services across rural and regional Queensland, including the Central West, by providing specialist care without the need for travel.
We have been able steadily to increase our telehealth delivery rates in the Central West from 3542 individual service events in 2018–19 to 4306 individual service events in 2022-23 – an
increase of about 21.6 per cent.
Every health facility in the Central West has access to telehealth services and we now offer
telehealth services in more than 60 disciplines, with this number growing steadily.
Since 2018, Central West Health also has been able to offer a full CT scanning service at Longreach Hospital that was previously unavailable within the region.
We now do more than 1200 CT scans a year on average at Longreach – for which Central West residents previously would have had to travel to Rockhampton or elsewhere.
While Central West residents will still need to travel outside the region for more complex treatment and specialist services not available locally, our goal is to minimise the need for them to do so as much as is clinically possible.
The fewer people who have to travel outside our region for health services, the fewer who will need to access support from the Queensland Patient Travel Subsidy Scheme.
However, PTSS remains available to all eligible people who need to travel outside the Central West to access health services.
For information on the PTSS, visit: https://www.qld.gov.au/health/services/travel/subsidies
In the Central West, PTSS expenditure for accommodation outside the region, private motor vehicle travel, and commercial travel has fallen between 2018-19 and 2022-23.
| Subsidy Type | 2019-2020 | 2020-2021 | 2021-2022 | 2022-2023 |
| --- | --- | --- | --- | --- |
| Accommodation | 612,725 | 576,203 | 507,642 | 442,244 |
| Private Motor Vehicle Subsidy | 606,899 | 581,439 | 605,237 | 598,477 |
| Commercial Travel Subsidy | 843,305 | 840,929 | 743,984 | 658,950 |
Planning for future health care delivery is an important part of the work of all hospital and health services.
We regularly review our services to ensure they continue to meet current and emerging demand and adjust them as necessary and will continue to work with partners to build and deliver close to home as possible for our residents.